Affordable Pilates by Barb Cash is a home based Pilates and Personal Training studio located in Mission Viejo, CA.  Barb Cash is a fitness professional with over 20 years of Group Exercise, Pilates and Personal Training Experience.  Barb had heard and seen of our work before and after speaking with another one of our clients, Concierge Aesthetics she was convinced we were the right agency for her business.  Aren't referrals the best?!  🙂
Barb had originally created a free site through VistaPrint and was very unsatisfied with the resulting site.  Barb was on a limited budget and asked us if we could create a professional looking landing page that would not only provide potential clients with an overview of her business and background, but also act as a way of generating leads for her business.  Of course we were up to the task!
Based off her existing color palette, we designed an engaging landing page with a rotating hero banner (to bring in movement to the site).  We then divided the page up into sections:  service overview, success stories, about the owner, schedule a free session/consultation and added a footer containing the business' contact information.
We also paid close attention to how we wrote the copy and SEO elements to help her page rank for the key terms "affordable Pilates" and "affordable Pilates in mission viejo".  We were pleasantly surprised when her site began ranking for these terms with-in the first two weeks of launch.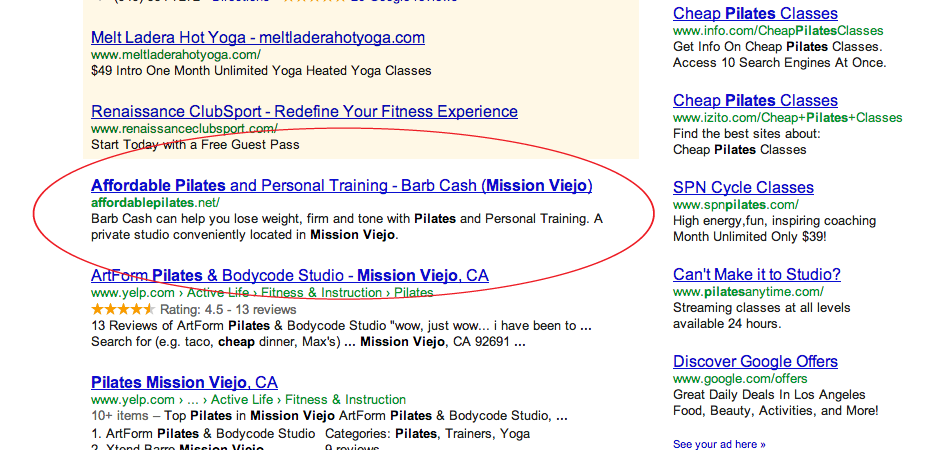 The end result was not only a page that looked great and the client "loves", it is a page that will bring incremental leads to Barb's business.
If you're business needs a brand new website or your current website needs a refresh – please contact us today – we would love to speak with you!