When preparing to write this post, I thought back to the first Wireless Application Protocol (WAP) / mobile site I created – about 15 years ago.  I had (at the time) a novel idea of creating a website where users could download cellphone ringer tones.  Unfortunately, I never decided to launch the site due to copyright restrictions.  Little did I know, it would have been a quite lucrative business if I had pursued it at the time.
Flash forward to today, mobile sites are still very relevant.  15 years ago, businesses that wanted to engage the (very) small audience that were accessing the web via their phone, needed to build a WAP or mobile site.  The reason of a mobile site was two fold: 1) reduce the images/links so they could be viewed on a small screen and 2) reduce the overall size of the website so it could be accessed on a very slow connection.
As smartphones get smarter and wireless connection speeds increase (trumping some household connections), the two reasons above have given way to consumer experience.  While smartphone users today can access the majority of websites from their phones, if the site isn't mobile optimized they may spend the majority of the time scrolling and zooming to find the content they're looking for.  To help streamline and optimize the experience, businesses can create a mobile site as an extension of their main website.
Do You Know How Many Users are Accessing Your Website Via Their Mobile Device?
If you've never checked, it is worth a glance.  To find this information, most hosting solutions (i.e. GoDaddy) provide site analytics in the admin area of your site.  At Risen Creative, we setup Google Analytics (GA) for all of our client's sites.  Via the GA dashboard, we're able to view not only the breakdown of desktop/mobile traffic, we're also able to see what type of mobile devices are accessing the site.
Example of One of Our Client's Desktop/Mobile Traffic:

From the above we see that the client's website was accessed 12,786 times and roughly 41% of those views came from mobile devices.  We also pulled the mobile device info to see what type of devices are accessing the site.  Excluding the Apple iPads, since we believe they should access the full version of the site, we find that a total of 34% of the total users accessing the site would benefit from a mobile site.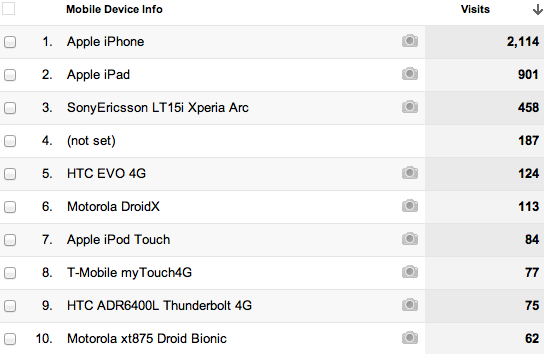 Based off this information, we would highly recommend this client builds a mobile site.  With such a large percentage of site access stemming from mobile devices, creating a mobile site for this client is a natural progression to their mobile strategy.  As a run of thumb, we advise if you find your website is receiving >15% of its' traffic from mobile devices it would be beneficial to have a mobile website built.
Next week we will look at what you need to know about creating a mobile website strategy.
Does your business need a mobile website, Risen Creative can help.  Contact us today to learn more!